When thinking of adding a fire feature to your new Unilock Paver patio in your Cleveland, Ohio back yard, or adding a free-standing fireplace, you may want to consider the look of Unilock pavers. With the many choices of pavers you can make your patio and fire feature as simple or elaborate as you like making your Cleveland home truly the envy of your family, friends, and neighbors.  Customize the look of your patio and fire feature with utilizing Unilock Pavers.  For more information or to request a free quote, contact Baron Landscaping at 216-430-0272.  For additional pictures and projects to help inspire you, visit our photo gallery.
We all know in Cleveland, Ohio the warm temperatures do not stay around for long and those Spring and Fall nights, and Summer nights too, can be to cool to stay outdoors as long as we may want to. If yours is the house which your family and friends gravitate to for getting together, consider having a Unilock Paver Patio with a Fire Feature installed to keep everyone warm on those cool spring, summer, and fall nights.  By adding a fire feature this can help extend your outdoor time longer throughout the year along with adding some warmth and ambiance to the nights.
For roasting marshmallows, hot dogs, or making S'mores or popping some popcorn at your summer gatherings, how about adding a great intimate gathering space around a fire ring? Incorporate wall seating for additional friends and family to gather around.  Compliment the seating area by adding additional patio furniture for added comfort.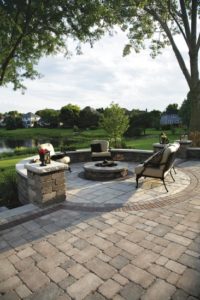 This paver patio is constructed using Unilock Brussels Block and the seating wall and fire pits were built using Olde Quarry pavers.  For safety or atmosphere, anchor your seating walls with pillars and install outdoor lighting.
If your backyard has the space for a larger fire feature, consider adding a large square fire feature.  This may be the right sized one for you and your back yard to host gatherings of larger crowds.  Although this is a larger fire feature you can have this built and still achieve having that cozy feel and charm for your parties you are hosting.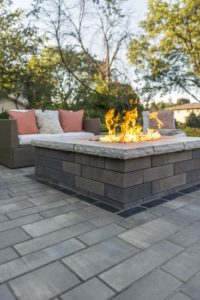 The patio featured was built using Unilock Artline pavers with a Lineo Wall Firepit feature.  Can't you feel the warmth exuding in your entertaining space already?
If you are looking for an even larger Fire Feature that can accommodate more of your family and friends and your are looking for something with that contemporary look with some added panache, this one shown here could be your choice.  Imagine your family and friends gathering around this tremendous fire feature and enjoying great food and fun conversations.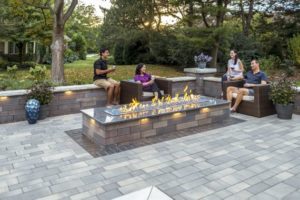 This patio and fire feature are constructed with Shah Premier pavers.  "Hidden" lighting on both the fire feature and sitting areas not only add a great safety feature when the fire is out, but will also add great mood lighting after the sun goes down.
If you are considering extending your inside to the outside and are looking to include a fireplace as your focal point, we can help you design Your Outdoor Living Space to look like this or a similar design. We would help you custom design your own space including your personal touches to truly make this spot your own.  Imagine yourself sitting outside on those warm summer nights or cool spring and fall evenings, having the warmth of a fireplace while still having the ability to enjoy the night sky and gazing at the heavens looking for your favorite constellations or finding some new ones.  What a fun way to learn or to teach your children or grandchildren without it feeling like you are.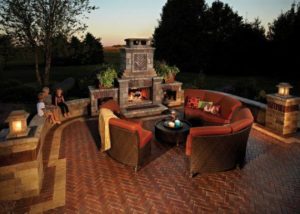 This Outdoor Living space is constructed using Unilock Copthorne pavers with the fire place utilizing Brussels Dimensional and incorporating seat walls for additional gathering spots.  Accent your patio and seat walls with a contrasting color paver to add some excitement to your design.
If you have a vision and have decided on what you are looking for to be included in your Outdoor Living Space or need some guidance on what type of fire feature will work best for you, please feel free to contact Baron Landscaping. Let's start the conversation between you and our professional designer and we will help you plan your custom designed Outdoor Living Space. We will sit down with you, get to know you, and incorporate your personality and ideas into your Outdoor Living Space.  For more information or to request a free quote, contact Baron Landscaping at 216-430-0272.  For additional pictures and projects, visit our photo gallery .
Baron Landscaping – Quality, Integrity, Peace of Mind