When designing your Outdoor Kitchen in Cleveland, Ohio, there are a number of things to consider before you begin the actual installation of the project. We have listed below some options you may find helpful when you are pondering the installation of additional entertaining space.  For more information or to request a free quote, please contact Baron Landscaping at 216-430-0272.  For additional pictures and projects, visit our photo gallery.
For those who live in Northeast Ohio, we all know that Cleveland, Ohio, is a PARTY town! Including the many professional sports teams we have in our town, and all the summer holidays, and warm weather, we always to seem to have the need to get together.  If your house is the place that the parties take place in the weekends, holidays, or whatever the reason may be, you may want to consider adding an Outdoor Kitchen to extend your entertaining space while taking advantage of enjoying the great outdoors . Let us help you bring your vision of your Outdoor Living Space and Outdoor Kitchen to a reality.
We can customize your Outdoor Living Space to fit your entertaining style. So, once you have the initial layout of your Outdoor Living Space and Kitchen in mind, there are several more things you will need to consider.   Let's move on to what seems to be an endless list of components you can have installed in your Outdoor Kitchen.
Today's Outdoor Kitchen grills come in a number of different sizes with even more accessories to choose from. Keeping in mind how much you entertain outside either just with immediate and extended family or if adding friends and neighbors to the get together, you will need to decide on your cooking surface area which will determine the size of your grill and how much space of the kitchen is being designated to your built-in grill.  Cooking surfaces can vary in range from 30" x 18″ up to 48" x 22".
Other options you may want to think about:
Do you have the need to keep things warm while the rest of the meal is cooking, consider having a warming rack installed.
Are clambakes an annual event at your house?  Look at adding side burners to cook the "bakes" or for making corn on the cob in the summer or fall days and evening.
If you are tired of running inside the house every time you need a cold soda, ice tea, any other cold beverage, or ice cubes, there are many options to select from to avoid this;
Your outdoor kitchen area can be a modest one should you not have the area to designate for a larger kitchen or you just want something small for you. We can make your kitchen customized to your liking.
Should you have a larger area that you would like to incorporate an eating area as well, we can build a paver patio with a seating area similar to what is shown here.  With this you have enough area to entertain smaller crowds and yet have an outdoor grilling area to prepare your scrumptious foods outdoors.
Outdoor Living Space with Built In Grill in Independence, Ohio
If you have the space which allow a larger footprint for a kitchen including eating bar along with a paver patio for additional seating area, shown here is a beautiful outdoor living space you can have built for your entertaining needs.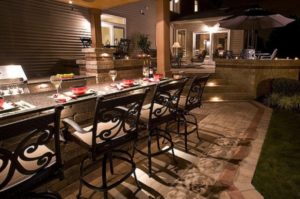 Outdoor Kitchen Cleveland Ohio Outdoor Living Space Contractor – Independence Ohio
Shown above would be an outdoor kitchen with an eating bar able to accommodate larger crowds and this also includes a separate paver patio area for additional seating and relaxing.  This particular kitchen area and seating bar is covered for those days that the weather does not cooperate fully with us and at patio side, you can fold the umbrella up and enjoy the clear night skies and the beauty of the stars.
Suffice it to say almost anything you find in your indoor kitchen area can be installed in your Outdoor Kitchen Space.  Your kitchen can be as elementary as a built in grill to an elaborate party central location.
Please feel free to contact Baron Landscaping to start the conversation on your Outdoor Kitchen Space. We will sit down with you, get to know you, and with the help of our professional Cleveland Outdoor Kitchen Designer, we will work with you and recommend a great layout for your Kitchen area.  For more information or to request a free quote, contact Baron Landscaping at 216-430-0272.  For additional pictures and projects, visit our photo gallery .
Baron Landscaping – Quality, Integrity, Peace of Mind