If you are planning to install an Outdoor Kitchen so the party can move outside, Cleveland, perhaps some of these designs might help inspire your palate. Using Unilock Pavers, you can create not only a masterpiece with your cooking, but a far more functional Outdoor Kitchen than you might think possible.  For more information or to request a free quote, contact Baron Landscaping at 216-430-0272.  For additional pictures and projects, visit our photo gallery.
There are so many options to choose from when thinking of building your outdoor kitchen in Cleveland, Ohio.  Not only with Unilock Pavers, but also with the kitchen and the accessories available to include in your custom Outdoor Kitchen.  You can go as basic as a Grill Island up to a full blown kitchen with everything including the kitchen sink.  Accessories abound which can be included in your kitchen from warming drawers, microwaves, steamers, extra burners, ice makers, refrigerators, wine coolers, kegerators, etc.   The list can almost seem endless.
If you are looking for that perfect BBQ island to entertain your friends and family on the weekends, a suggestion would be the grill surrounded by some prep space.  Although this may appear small this does offer quite a bit of prep space.  This would be perfect tucked away in the corner or your patio away from the main "hustle and bustle" center of your patio.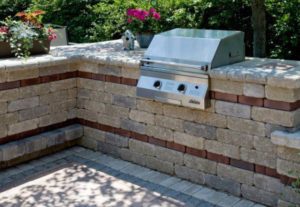 Shown here is your grill station made from Unilock Brussels Dimensional Copthorne Pavers. The Copthorne accent gives your island a little splash of color.
If you are looking for a a slightly larger larger prep space along with a larger grilling space, this layout provides side burners and has enough space available to accommodate a refrigerator.  This just might be the Outdoor Kitchen you have been looking for. You can also include the outdoor lighting so that you can still cook in the evening and also adds a little ambiance to the setting.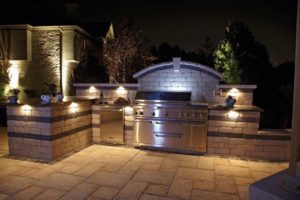 Shown here, this kitchen is built using Yorkstone Courstone pavers.  A nice accent wall feature with lighting will allow you to still enjoy cooking in the early evening.  This particular L-shaped layout has additional prep space which you can also use for making your delectable dishes and it can also double as a seating bar.  This way our guests can sit near by and still converse with you as you prepare your gourmet meal.
When designing your kitchen consider adding a seating bar area so that friends and family can visit while you are busy creating your delicious cuisine. This kitchen also has an extra side burner and warming drawers and consider adding a small refrigerator to avoid popping in and out of the house every time you want a nice cold beverage.  Adding an ice drawer will always be useful in keeping those cold beverages even colder for the hot and muggy summer days of Cleveland, Ohio.
If you entertain quite often, you may need a larger area to in which to work. You may consider adding either a Pavilion or Pergola for a separate seating area with table so that you and your quests can enjoy the food you have prepared. Perhaps include a fire place so that everyone can sit back and relax (especially the cook), after preparing a scrumptious meal and enjoy watching the embers glow or perhaps do a little star gazing.  This amazing layout has a very large prep space for many hands to help in the kitchen preparing scrumptious banquets of any size for your guests.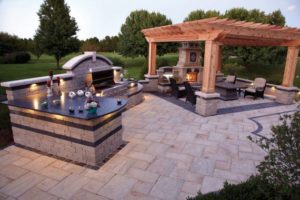 This particular Outdoor Living Space is created by using Unilock Yorkstone Courstone pavers. Note the use of the different colored trim on the cooking island, under the pergola and the entry way into the space. This gives the space a bit of charm and while also giving it some definition.
Suffice it to say, your Outdoor Kitchen can be as simple as your Grill in an island which will allow you to have some prep space or go as elaborate as you would like. If your house is the house where the party always is, we hope we have inspired you to create your own custom Outdoor Kitchen so that you can entertain the masses for a long time to come.
If you now have a clearer vision of your Outdoor Kitchen, let's sit down to discuss a design for your dream kitchen to entertain all that come to feast with you. Meet with our professional Designer to custom design your own outdoor kitchen.  For more information or to request a free quote, contact Baron Landscaping at 216-430-0272.  For additional pictures and projects, visit our photo gallery .
Baron Landscaping – Quality, Integrity, Peace of Mind