Are you looking to add a unique way to  "welcome" your family and guests when they come to your home?  By using Unilock Pavers, you can customize your Outdoor Living Space, driveway, or walkway by putting your own "brand" on it. Whether that is a Medallion, a Starburst, or your Monogram, almost anything is possible if you can imagine it.  This can be achieved when you work with our professional designer to create a custom look for your home.  For more information or to request a free quote, contact Baron Landscaping at 216-430-0272.  For additional pictures and projects, visit our photo gallery. If you would really like to customize your Cleveland, Ohio Outdoor Living Space with your own style, chances are you can do that with Unilock Pavers. Baron Landscaping can help you make your own custom pattern when installing your paver Outdoor Living Space, driveway or walkway.
This walkway is made by using Unilock Beacon Hill paver stones.  A beautiful way to say "hello" to guests can be done with a nice looking entry walkway.  This is a very modest but tastefully designed walkway.  Should you have or like to add a porch onto your home, you can carry this same design onto the porch.  The accent trim colors come in a number of different tones so that you can make your own statement to your guests.  Achieve a different look by adding a bold accent border of a different color along with angling the pavers.
.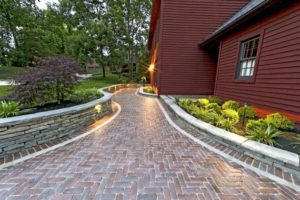 To get the look and feel of an old country cottage, you can't go wrong with the classic herringbone pattern.  By adding a small retaining wall on the borders you can add some quaint charm to the look of your walkway.  Simple and inviting but using the herringbone design, gives you a touch of elegance. This walkway is constructed using Unilock Copthorne Paver and Rivercrest Wall.  Finish off your walkway with some amazing landscape to put the finishing touch on your project.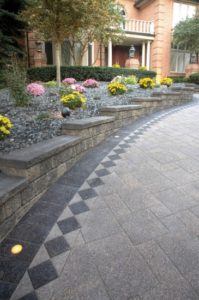 When installing your new Unilock Paver driveway, instead of using separate lighting fixtures on the side of the driveway, consider incorporating the lights within the driveway for a stunning look. Should your driveway have an incline to it, add "step" up retaining wall and finish it off with lush landscaping.  This driveway was installed using Unilock B Series 3000 paver stones with Series 3000 border accent.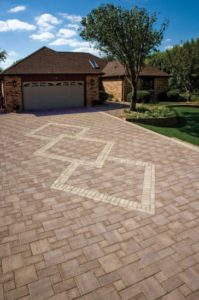 For a fun design use different sized Unilock Pavers within your driveway to give it a unique look.  Consider adding a geometric design for that one of a kind custom look.  This look was achieved by using Unilock Series 3000 driveway with Series 3000 accent to create the fantastic welcome.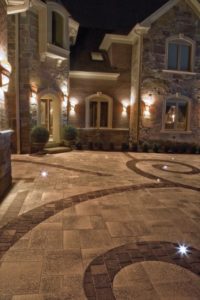 For that truly "one of a kind" design in your Outdoor Living Space or Driveway, incorporate a "whimsical swirl" design and add sparkles of light for accents within the driveway itself. What a bold statement this design makes to your guests as they pull into your homestead for a visit.  This entrance way look is achieved by using  Unilock Umbriano pavers.
If Your Outdoor Living Space or Paver Patio has stairs in the design, customize them by adding different colored pavers for a very distinctive look as well as adding a "fullnose" edging which will avoid sharp edges.  This gives your stairs a softer cascading look rather than the squared edges of your typical stairs.  This look is achieved by utilizing the Brussels Dimensional Wall with Fullnose steps paver stones.
Customize how you "Welcome" your guests to your haven with your own monogram in your driveway. Talk about putting your own personal touch on your property.  This is truly and unique way of making your home your own. Having an accent trim on the sides of your driveway which continues up in the walkway and entranceway of your home completes the custom design of your driveway.  In front of the garage you can continue the customization and self "branding" by adding a geometric pattern.  This Driveway and Walkway Entrance with your own monogram can be yours and constructed using Unilock Brussels Block Paver with llCampo banding.
If you now have a clearer vision of your custom design for your Paver project, let's sit down to discuss a design that is unique to only you. Meet with our professional Designer to custom design your own outdoor kitchen.  For more information or to request a free quote, contact Baron Landscaping at 216-430-0272. For additional pictures and projects, visit our photo gallery .
Baron Landscaping – Quality, Integrity, Peace of Mind