When thinking of adding a paver patio in your Cleveland, Ohio back yard, consider have a Unilock Paver patio installed.  With the many choices of pavers Unilock has to offer you can make your patio an amazingly comfortable place for you and your guests to gather and have an awesome time together.  Customize the look of the patio utilizing Unilock Pavers.  For more information or to request a free quote, contact Baron Landscaping at 216-430-0272.  For additional pictures and projects, visit our photo gallery.
Some of the features to consider when installing a Unilock Paver Patio in Cleveland are:
Exceptional long-term surface performance
Withstands severe freeze-thaw cycles
Resistant to de-icing salt
Build grill islands, fireplaces, water features, planters, pillars and more utilizing Unilock products
Unaffected by most household chemicals
Safe non-slip surface
So you have now decided that you would like to have a Paver Patio or your own Outdoor Living Space built in your backyard.  Here are some ideas, from modest to extravagant, for you to peruse and incorporate your own signature style.
If your back yard is a modest sized area, this does not mean that you can not have a paver patio installed.  If you are considering adding a "grilling island" along with a small seating area, a gathering spot, and possibly including a fire feature, this may be a solution for your backyard. Imagine you, your family, and friends getting together for a fun BBQ and having a cozy setting such as this.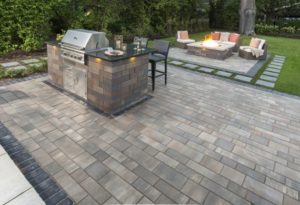 This quaint Outdoor Living Space has been constructed with an Artline Patio and Lineo Wall Fire pit
If you love to be surrounded by nature, this is a very cozy setting while being able to take advantage of enjoying Mother nature at her finest with all the colors and peacefulness she has to offer.  By incorporating flower boxes in your design, this will give you added space to plant your favorite flowers or even vegetables while utilizing them to separate areas on your patio.  Note the small sitting "nook" nestled among the flowers for you or your quests to enjoy.  Perhaps by adding a small staircase can lead to more of your garden.
This great patio is constructed with Unilock Natural Stone pavers
Living in the country can be very relaxing. If you are looking to add an Outdoor Living Space to be able to enjoy all the peacefulness that country living affords you, let us help you custom design your Unilock Paver Patio.  Imagine all the stresses of life leaving you while you are unwinding in this great Outdoor Living Space.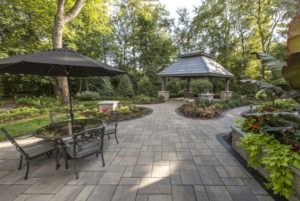 Consider this design which uses Large Beacon Hill Patio Pavers.   Perhaps you should consider adding a Pavilion area for  an additional gathering spot.  This can also serve the purpose of giving shelter should a quick summer shower pass by or the sun is beating down.
If your yard is not as level as you like, consider adding a multi-tiered patio for your enjoyment. This design not only has a unique inlay design at the bottom of the steps, but also includes many additional features such as a fire feature, water feature, seating walls as well as a Pavilion.  When installing your Unliock Paver Patio, you can customize it with any feature you like.  What better place to relax than in your own back yard?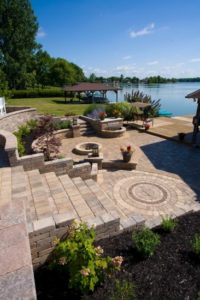 This patio with both Water and Fire Features was constructed utilizing Unilock Brussels Block patio with Brussels Dimensional steps and walls.
Perhaps you are contemplating moving Inside – Out by having an informal Outdoor Living Space such as this shown here.  Kick back and relax with friends and family while enjoying a great movie or sporting event on your outdoor TV.  Adding the cover allows you to enjoy the space even if the weather does not fully cooperate.  Customize your Outdoor Living Space to enjoy the evenings outdoors with this Unilock Paver Patio with your own Pavilion.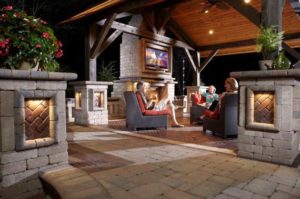 This Private Oasis was constructed using Unilock Brussels Block for an outdoor living room and including a Brussels Dimensional fireplace
If you have a vision of having a paver patio installed or an Outdoor Living Space built in your back yard, let's sit down to discuss a design and budget that will work for you. Meet with our professional designer to custom design your own paver patio or outdoor living space that suits your needs, budget, and personality.  For more information or to request a free quote, contact Baron Landscaping at 216-430-0272.  For additional pictures and projects, visit our photo gallery .
Baron Landscaping – Quality, Integrity, Peace of Mind