If you are installing a patio, walkway, driveway, outdoor kitchen, or decking around your in-ground pool in Cleveland, Ohio, you need to consider whether you would like to install pavers or concrete for your outdoor project. Here are some things for you to think about and consider before you start your outdoor living space project.  For more information or to request a free quote, contact Baron Landscaping at 216-430-0272.  For additional pictures and projects, visit our photo gallery.
Why should you choose pavers over concrete
in Cleveland, Ohio?
There are a number of reasons why pavers are a much better option than pouring a slab of concrete.   Although pouring a cement slab can be less expensive initially then installing pavers, there are some drawbacks to using concrete over pavers.  You need to look at the long term costs when contemplating your big investment of your project.  Here are some immediate items for you to consider before making your decision on installing your walkway, driveway, patio, or pool-decking:
Concrete
A slab of concrete and you may have the option of colors but only 1 color per slab
A Slab of concrete does not lend itself to offering any design options
If the earth moves – concrete can and will shift and crack – this means unsightly repairs will need to be done to your concrete
With constant freezing in thawing with Cleveland Ohio winters, concrete cracks and crumbles
If water doesn't drain properly it can puddle – if this happens in winter – it can cause damage
Pavers 
A multitude of sizes, shapes, and colors to select from allowing you to customize your project
Integrate Designs with different colors, shapes, and sizes of pavers making your project as unique as you are
When installed correctly – pavers don't shift.  When the earth moves, so moves the pavers
Pavers flex with weather changes
Pavers have a permeable product which allows water to drain through
When doing a project that involves either concrete or pavers, both come with a cost.  When it comes down to it, you don't want to spend a lot of money only to have issues with the project not long after the installation.  Don't let this happen to your patio, driveway, outdoor kitchen space, or area around your in-ground pool in Northeast Ohio.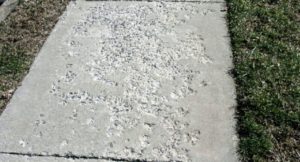 Flaking, chipping and divots caused by salt damaging your concrete walkway
Although we have come a very long way with products designed to melt away the snow and ice build up on walkways, driveways, and alike, they still can damage your concrete areas.  The salt may melt your snow and ice but if you don't gt rid of the water left behind and combine this with the constant freezing and thawing that occurs in Cleveland, Ohio, it can leave your concrete looking like the photo shown above.  When this type of flaking, chipping, and divots occur to your concrete you have a couple of alternatives.  1): patch the area which could only lead to having you repeat this process in the future, or 2): break up the slab and have another poured in the same place and hope the damage doesn't occur again.
VERSUS
Show your guests to your home with a Unilock Paver walkway.  Above walkway was constructed using Unliock Copthorne pavers with contrasting color trim.
Lead your guests to your beautiful outdoor living space with a walkway made with Unilock pavers.
Pavers will give you more flexibility in both your functionality and design of your project.  You can custom design your project anyway you would like to.  With pavers, you can change the design, such as laying the pavers in a vertical pattern as seen in the first photo.  Lay the pavers out in a horizontal pattern, angle them, or for a different feel, have a herringbone pattern laid out.  Trim the walkway or whatever your project is with a different sized paver and a contrasting color. Using different sized pavers in a random pattern shown in the second photo, also will allow you to have a one of a kind look.  It would be difficult for you to accomplish this same custom look with concrete.
Keeping the pros and cons in mind when you are thinking of your patio, driveway, or walkway, you should enlist the help of a professional pavers expert designer and installation contractor.  When you work with Baron Landscaping you work with a professional designer and crew to install your project.  We sit down with you and listen to your ideas of what you would like installed and give your our professional opinions and layout different options for you to consider.  For more information or to request a free quote, contact Baron Landscaping at 216-430-0272. For additional pictures and projects, visit our photo gallery.
Baron Landscaping – Quality, Integrity, Peace of Mind