Although in Cleveland, we do not have mountains, we do have a lot of areas that the land is not as level as we would like so the use of retaining walls may be necessary on your property to allow more usable real estate for you and your family.  And being King of the Hill in your Cleveland, Ohio neighborhood can sometimes give you great views of the Cleveland's beautiful landscape; being on the top also comes with many disadvantages as well, when it comes to using your "yard" as a yard.  Perhaps you should consider adding some retaining walls to your property to allow you to have more usable real estate or to hold back earth so as to not come tumbling down on you.  For more information or to request a free quote on building retaining walls on your property, in Northeast Ohio, contact Baron Landscaping at 216-430-0272.  For additional pictures and projects of what we do, visit our photo gallery.
Does your property have such slopes on it rendering parts of your yard unusable?  Are there areas in your yard that you can not reach due to the steepness of the grade that it is such that you need to use ropes and harnesses to get to it?  That can be the case in many areas of Cleveland, Ohio, due to the history of our land.  If this is a problem on your property consider adding a retaining wall or two which will give your yard more usable space for playing sports with the family or entertaining.  For some, adding tiered gardens is just the thing to add beauty to your home while at the same time helping with erosion issues you may be dealing with.
Below is a picture of a project Baron Landscaping, Your retaining wall contractor, recently completed in the Cleveland, Ohio area.
Baron Landscaping are experts when it comes to turning an unusable and unreachable area of a yard into something with beauty and function.  Featured photo is a project recently completed giving the homeowner more of a yard then they had previously.  They now have access to a lower part of their property that they can get to traveling down a safe stairway instead of having to take their chances with rolling down the hillside and risk injury.  Incorporated into the retaining wall feature are various heights of retaining walls which then allows the planting of lush foliage which enhances the overall beauty of the property.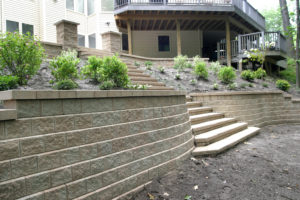 You may want to consider including a water feature to add some flair to your landscape.  Adding a water feature can add to the tranquility of your back yard with the soothing sound of water falling.  And did you know that the sound of the water falling will also attract birds and butterflies to the area?
By  adding a retaining wall you can enlarge a level area in your backyard area.  Imagine creating a larger more level space in your backyard which perhaps would now allow the installation of an entertaining space such as a BBQ grill island or an Outdoor Kitchen.  Consider instead maybe a Unilock paver patio with a fire pit feature for a cozy little getaway.
Consider adding a lower height retaining wall to elevate your garden.  Give your yard a makeover with adding low level retaining walls giving your home that curb appeal that maybe has been lacking.  You may even want to contemplate adding a new Unilock paver walkway to invite friends and neighbors to come see your new landscaping as well as welcome your guests to your home.
Do you need to keep your yard from intruding on your driveway or from the entrance of your walkout basement?  It may be in your best interest to consider adding a retaining wall to do the job for you.  Now that the retaining walls are up, some great ground cover can be planted that will help the earth from eroding away.
For all your questions you have about installing a retaining wall in your yard, please contact Baron Landscaping to start the conversation on your project. We will sit down with you, get to know you, and with the help of our professional Cleveland Retaining Wall Contractor Specialist, we will work with you and recommend the retaining wall to suit your needs and address your concerns.  For more information or to request a free quote, contact Baron Landscaping at 216-430-0272.  For additional pictures and projects, visit our photo gallery .
Baron Landscaping – Quality, Integrity, Peace of Mind