In Northeast Ohio, we do not always have the flattest of land.  Perhaps your yard or property is one that has such an issue rendering parts of your area useless.  Did you know that you can customize the look of your property utilizing Unilock Pavers to install a retaining wall while gaining more usable real estate?  For more information or to request a free quote, contact Baron Landscaping at 216-430-0272.  For additional pictures and projects, visit our photo gallery.
Questions you may want to ask yourself to see whether or not you should consider adding retaining walls on your property;
Is it difficult for my children or grandchildren to play in my yard due to the sloping?
Are you frustrated not being able to plant any type of vegetation due to run off?
Would you like to add an Outdoor Living Space or Paver patio but your land is not conducive for either of these?
Would you like to add a raised flower bed to show off your prize winning flowers?
If you have any of these issues at your Cleveland, Ohio home, you may want to consider adding a Unilock retaining wall.
By adding a retaining wall and some dirt we can help you to create more usable real estate, a raised garden bed(s), create a new entry way, while giving your home a dramatic new look and add a lot more function to your property.
By adding a simple raised bed in your front yard and planting beautiful flowers can change the look of your home significantly. Add some Outdoor Lighting to illuminate the garden at night for some flare.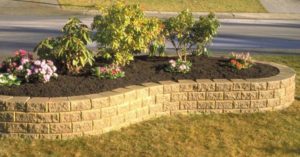 This raised bed was built by adding a low retaining wall constructed using Spit'NStack Pavers
If you are looking to dress up the front of your home, consider adding a multi-tiered raised flower bed along with a new walkway to match. What better way to welcome family and guests to your home with a gorgeous show of color with amazing landscaping.  This will also add curb appeal to your home for all passers by to enjoy.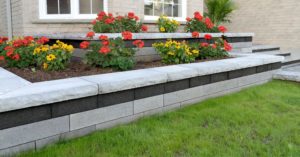 This Multi-tiered Raised Flower Bed using retaining walls with a matching walkway and steps is constructed using Lineo Wall pavers
If the land behind your home is uneven to the point you just can't use it the way you would like, and you would love to create an Outdoor Living Space, consider adding a multi-level Paver Patio. Perhaps adding a small BBQ island will aid in hosting a party or two. Surround your new Outdoor Living Space with lush foliage to create a relaxing place to unwind after a tough day at the office.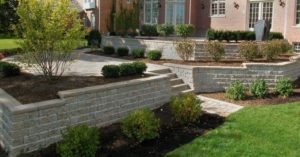 Using Unilock Roman Pisa pavers, you can create your own customized Outdoor Living Space by adding stylish retaining walls
Too much pitch to the land outside your front or back door? Let us work with you to custom design retaining walls for a way to tame that steep slope, while at the same time creating a beautiful focal point to your home. By having different heights of retaining walls built you can add areas in which to plant some dazzling landscaping.  Consider adding some amazing and colorful plants that will really enhance the look of your house to make it a showstopper of your neighborhood.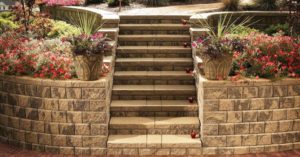 This dramatic look was created by adding multiple retaining walls was built using Unilock Pisa2 pavers.
Having a steep grade on your property makes it difficult at best to utilize your land to the fullest and take advantage of what you have. By adding a few retaining walls you can set a spectacular backdrop for landscaping and create Your Outdoor Living Space. An option would be to perhaps add a smaller wall, as shown here, and add some gorgeous flowers or ornamental trees to enhance the exquisite look of your space. Perhaps add other features, such as a fire pit or a water feature. Now you can enjoy your back yard and all it has to offer.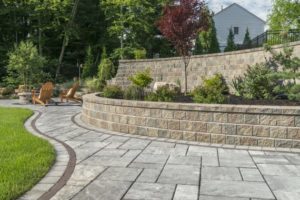 This custom area was built using Beacon Hill Flagstone Patio with large retaining walls
Now that you have decided that you would like more use out of your yard, please feel free to contact Baron Landscaping to discuss adding retaining walls to your setting and add more functionality to your property. We will sit down with you, get to know you, and with the help of our professional Designer, we will work with you to design ways for you to enhance the functionality of your property. For more information or to request a free quote, contact Baron Landscaping at 216-430-0272.  For additional pictures and projects, visit our photo gallery .
Baron Landscaping – Quality, Integrity, Peace of Mind