Unusable real estate can be challenging at best. Baron Landscaping of Independence, Ohio is an Outdoor Living Space specialist who can turn the unusable space into usable living space.
Do you believe your yard has more unusable land available than usable?
Does your yard have hills or ravines around making most of your yard unusable in your opinion?
Or does it have a ravine so wide and long that is seems to go on forever?
Even if you think there is not enough usable space to create an outdoor oasis, don't be discouraged. Although for most of us we can not even fathom what can be done when faced with a hillside coming to an end so close to the side of your home, the designers at Baron Landscaping have the expertise and know-how to create a custom Outdoor Living Space to suit your needs. Baron Landscaping works with customers to custom design the perfect "getaway" spot just for them, their family and friends.
Pictured here is a serene outdoor peaceful sanctuary which was created with space taken from an unusable area in the homeowner's yard. This was achieved by carving into the hillside. Installing a paver walkway was the first step in creating more usable space.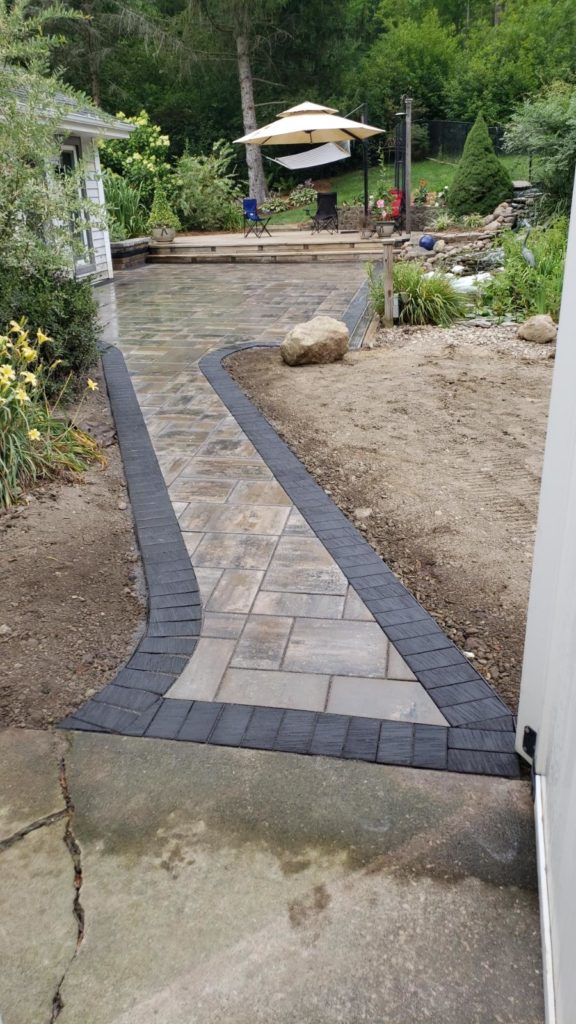 The walkway leads into a beautiful, nice sized paver patio with steps leading to a slightly elevated deck. On the back side of the deck a small retaining wall was built which doubles as a seating wall. With adding the deck as an extension into the hillside a larger space was created for the homeowner to use for relaxing and entertaining. A three sided short retaining wall was built on one side of the deck area to accommodate a gorgeous garden. Another pathway was installed between the house and garden which leads to an outdoor eating area. While on the other side of the deck, utilizing the natural slope of the yard, Baron Landscaping created a water fall feature emptying into a small pond. Anyone can tell you that having a waterfall feature is not only soothing to us all, it has been know to attract wildlife to the area as well.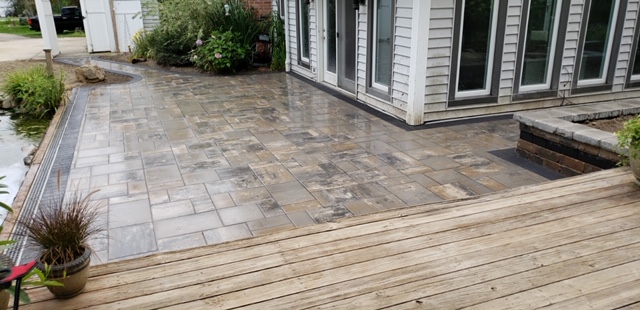 Although this project is still a work in progress with more lush landscaping to be planted. Once the plants become established this will become a backyard oasis which will be the envy of all who visit.
If you have a vision and have decided on what you are looking for to be included in your Outdoor Living Space and would like to incorporate a water feature, please feel free to contact Baron Landscaping. Let's start the conversation between your and our professional designer and we will help you plan your custom Outdoor Living Space. We will sit down with you, get to know you, and incorporate your personality and ideas into your Outdoor Living Space.  For more information or to request a free quote, contact Baron Landscaping at 216-430-0272.  For additional pictures and projects, visit our photo gallery .
Baron Landscaping – Quality, Integrity, Peace of Mind