Calling Cleveland, Ohio back yards!  Are you considering a Water Feature for your Back Yard of Outdoor Living Space? You may want to consider the look of Unilock pavers.  With the many choices of pavers you can make your patio water feature be a great focal point of your Outdoor Living Space.  Customizing the look of your water feature with utilizing Unilock Pavers is a great choice for Your Outdoor Living Space.  For more information or to request a free quote, contact Baron Landscaping at 216-430-0272.  For additional pictures and projects, visit our photo gallery.
Water features for your Outdoor Living Space in Cleveland, Ohio, vary in size and shape and can be as modest as you like to the very elaborate. The design and choices are endless and the designers at Baron Landscaping can work with you to install one that fits your budget and your character.  The relaxation benefits while listening to the soothing sound of the water falling are great no matter what the style, shape, or size.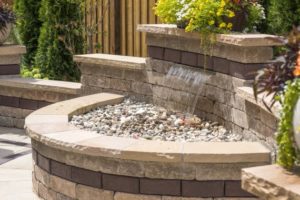 Pictured here is a quaint custom water feature using Unilock Brussels Dimensional Wall Pavers.  By adding an accent trim paver in a contrasting color gives your water feature a little pizzaz.
If you are adding a water feature to your new Unilock Paver Patio, it can be used as a focal point, however at the same time, it is also used to reduce any noise from your surroundings.
Above water feature is built using Unilock Umbriano Pavers
After a long week or working, imagine you and your guests sitting around relaxing to the sound of your own private water fall with soothing sounds to relieve all the tensions of the week.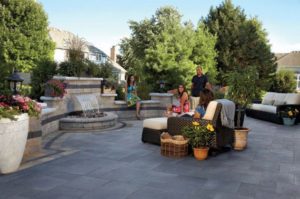 Cozy up to your very own private water feature. This water Feature shown is constructed using Unilock Umbriano patio pavers with Olde Quarry pavers.  Accent the water feature, with a splash of color using potted flowers and plants….then sit back and enjoy.
Have a built in swimming pool? Consider adding a Water Feature Wall to add a little panache to your back yard.  Imagine floating around your pool while listening to the pacifying sounds of water trickling into the pool.  Imagine those same soothing sounds while basking in the sun…………
This Water Feature Wall is constructed utilizing Rivercrest Wall pavers.  What a unique addition for your Outdoor Living Space Retreat.   The sounds of the cascading water falling will also have a calming affect on all who can hear this.
For a dramatic statement to your Outdoor Living Space, consider installing columns for your Water Feature.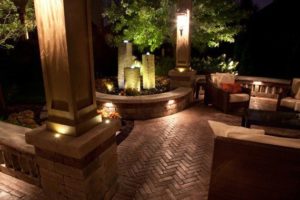 Shown here is an Outdoor Living Space using Unilock Patio Garden Wall constructed with Copthorne Paver in a herringbone design. What a statement this would make when you accent with Outdoor Lighting at the Water Feature column base.  This beautiful Patio was constructed using Artline Paver and finished off with Lineo Wall pavers for the water feature. Add Outdoor Lighting for a more dramatic look and to accentuate your custom water feature.
The larger the area the larger the water feature which can be installed. Invite your guests over for a dinner party and have the relaxing sounds of the water dancing on the rocks soothe everyone while listening to soft music in the background.  Your house will be at the top of anyone's list as the place to go for a relaxing get together.
If you are looking to add a pond on your property, look no further than Baron Landscaping to install a pond for you. Adding a pond to your property is great for the ecosystem and it will also attract wildlife to your area.  Installing a waterfall will attract birds as they are attracted by the sound of the falling water as well as other creatures that will stop in to take a drink.  What better way to observe mother-nature than a first row spot at the watering hole?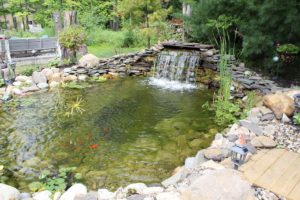 If you have a vision and you have decided on what you are looking for to be included in your Outdoor Living Space with a water feature, please feel free to contact Baron Landscaping. Let's start the conversation between you and our professional designer and we will help you plan your custom Outdoor Living Space. We will sit down with you, get to know you, and incorporate your personality and ideas into your Outdoor Living Space.  For more information or to request a free quote, contact Baron Landscaping at 216-430-0272.  For additional pictures and projects, visit our photo gallery .
Baron Landscaping – Quality, Integrity, Peace of Mind